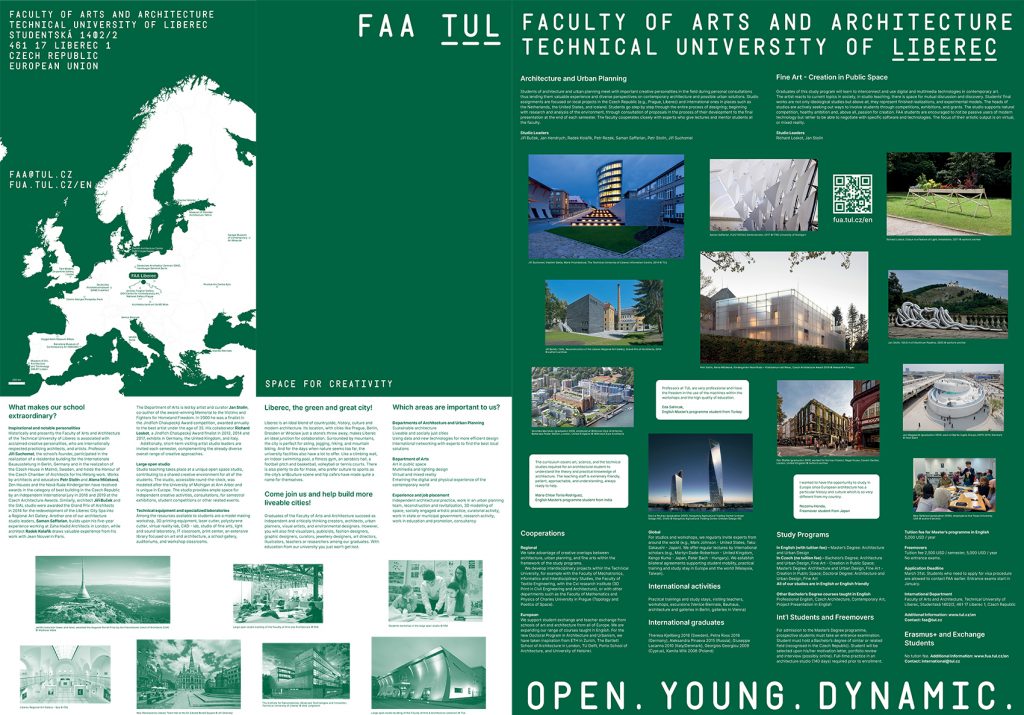 Studio Leaders
Inspirational and notable personalities
Historically and presently the Faculty of Arts and Architecture of the Technical University of Liberec is associated with acclaimed creative personalities, who are internationally respected practising architects, and artists. Professor Jiří Suchomel, the school's founder, participated in the realization of a residential building for the Internationale Bauausstellung in Berlin, Germany and in the realization of the Czech House in Malmö, Sweden, and holds the Honour of the Czech Chamber of Architects for his lifelong work. Works by architects and educators Petr Stolín and Alena Mičeková, Zen Houses and the Nová Ruda Kindergarten have received awards in the category of Best Building in the Czech Republic by an independent international jury in 2016 and 2019 at the Czech Architecture Awards. Similarly, architect Jiří Buček and the SIAL studio were awarded the Grand Prix of Architects in 2014 for the redevelopment of the Liberec City Spa into a Regional Art Gallery. Another one of our architecture studio leaders, Saman Saffarian, builds upon his five-year experience working at Zaha Hadid Architects in London, while architect Radek Kolařík draws valuable experience from his work with Jean Nouvel in Paris.
The Department of Arts is led by artist and curator Jan Stolín, co-author of the award-winning Memorial to the Victims and Fighters for Homeland Freedom. In 2000 he f was a finalist in the Jindřich Chalupecký Award competition, awarded annually to the best artist under the age of 35. His collaborator Richard Loskot, a Jindřich Chalupecký Award finalist in 2012, 2014 and 2017, exhibits in Germany, the United Kingdom, and Italy. Additionally, short-term visiting artist studio leaders are invited each semester, complementing the already diverse overall range of creative approaches.
Large open studio
Studio teaching takes place at a unique open space studio, contributing to a shared creative environment for all of the students. The studio, accessible round-the-clock, was modeled after the University of Michigan at Ann Arbor and is unique in Europe. The studio provides ample space for independent creative activities, consultations, for semestral exhibitions, student competitions or other related events.
Equipment and specialized laboratories
Among the resources available to students are a model making workshop, 3D printing equipment, laser cutter, polystyrene cutter, virtual reality lab, CAD – lab, studio of fine arts, light and sound laboratory, IT classroom, print centre, an extensive library focused on art and architecture, a school gallery, auditoriums, and workshop classrooms.