When you are looking for something to read or searching for resources for your theses, you should visit our University library. It provides me than 230 000 documents – books, textbooks, theses, journals and others. On top of that, the library environment is perfect for studying and just relaxing.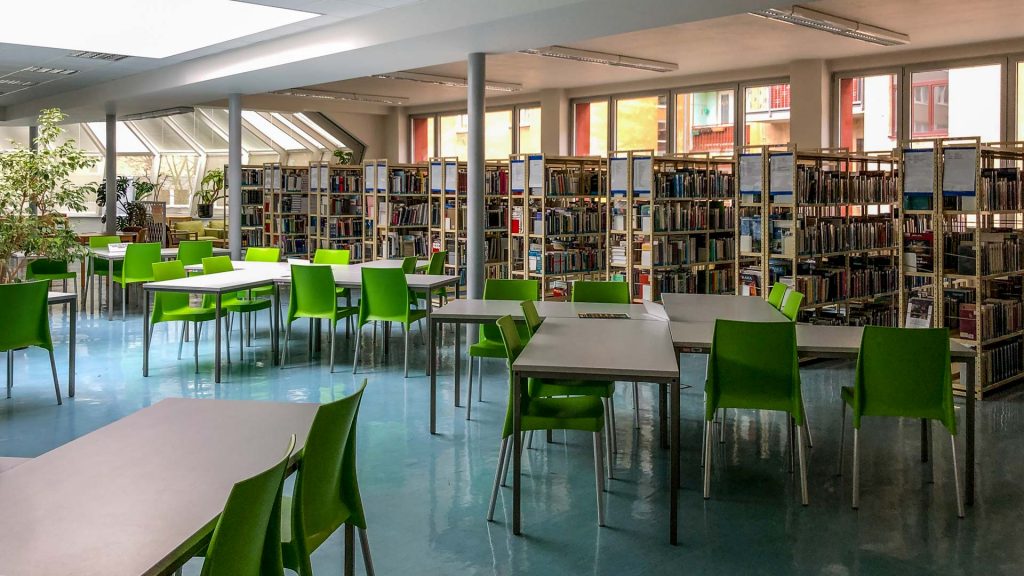 Registration
Registration is free for students and employees of our university – just visit the library with a valid university ID card or use the online registration. The membership period is one year then you have to prolong it. Registration is also available for alumni and public for a symbolis fee of 25 Kč.
Main library
Voroněžská 1329/13 (building H)
All the services are available in the main library – registration, loans and returns, scanning, printing and more. You can also visit the acquisition department to request some needed document wich is not available in the library yet.
Opening hours:
8:00–18:30
During the pandemic: loan window 8:00–15:00
E2 branch
During a reconstruction, the branch is located in building F, Husova 1290/75.
The branch is located on the main campus. It offers the basic services – registration, loans and returns. Using the online catalogue, you can book documents from the main library to pick up here.
Opening hours:
9:00–12:00, 13:00–16:00
During the pandemic: loan window 9:00–12:00, 13:00–16:00
Biblioboxes
Two biblioboxes are available to return loaned books. They are located in the Students club in the building E2, and at Harcov dormitories (building C).
Bibliocabinet
Bibliocabinet full of books (up to 140 pieces) is available in the building P. Reader's card is required to loan or return books here.
Publishing
Publishing – operated by the library – is responsible for issuing electronic and printed documents and assigning of ISBNs.
Publishing centre and planography
It provides printing and related services:
printing and binding of diploma theses,
black and white or color printing including large formats,
production of books, proceedings and posters.