Accommodation in the University Halls of Residence
International students are guaranteed accommodation in the university's Halls of Residence and don't need to apply for any type of accommodation on their own. It is booked upon acceptance of the student at Harcov Residence Halls. The cost for students is 120 CZK/day for a single bed in a double room. A small kitchen and a bathroom are shared for each unit of two or three double rooms. There is no need to send a special application form or to register. A deposit of 5,000 CZK is required at arrival in cash and in Czech crowns. The student should announce the date and time of arrival by e-mail and pay accommodation from the beginning of the semester even if he/she arrives later.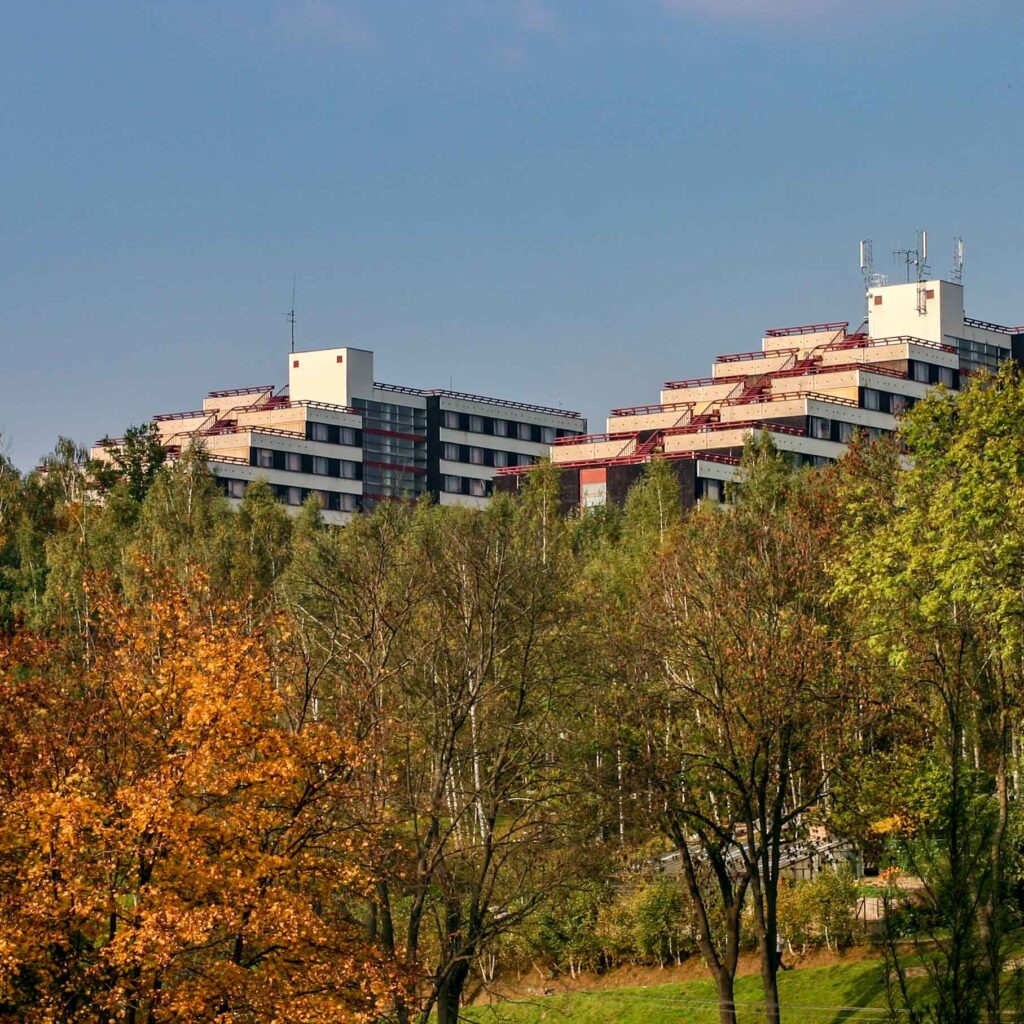 The address of Harcov Residence Halls:
Koleje Harcov (pronounced [koleye hartsof])
17. listopadu 584,
46015 Liberec 15
Czech Republic
(e-mail: us.koleje@tul.cz)
Advantages of living in Harcov:
comfortable (two rooms share a bathroom and a kitchenette)
near to the main campus (approx. 15 minutes on foot)
affordable (approx. USD 110/month in a double room or USD 183/month in a single room)
rooms are fully equipped (including blankets, pillows and bed linens)
washing machine, vacuum cleaner, etc. available on site
ATM of Komerční banka on-site (in block B)
You want to see more? Watch the video about our Harcov University Halls of Residence: PART 1 and PART 2
Accommodation for alumni who get a job in the Czech Republic
If you decide to continue living in the dormitory after graduation when you get a job here, the capacity is available. It is necessary to inform the Accommodation Services office about your plan and they will book accommodation for you and issue the document you will need for the visa office. The price is:
3 600 CZK per month in a room shared by two people, and
4 710 CZK per month for a room for one person. – currently not possible for capacity reasons
The fee is paid in advance at the reception.
Opening Hours of the Accommodation Services:
Mo: Th 9 – 12 and 13 – 15
Fr: 9 – 12 and 13 – 14
Accommodation Officers at blocks A-F are available:
Mo – Fr: 7 – 11:30 and 12 – 14